The project
Be Holding Earth is a project in collaboration with White Elephant Designlab (Tobias Kestel). We are trying to make people understand that we only have this one Earth and we are in fact a dust spec in the vast universe with Earth being our precious spaceship.
According to astronauts experiencing the overview effect (seeing Earth in it's round glory from space) profoundly changes your way of experiencing life on earth. With this installation we wanted to make it possible for common people to experience some of the overview effect's sensation without going to space, by letting them dive into a tank to levitate inside and showing them a live feed from a satellite in orbit.
The installation consists of two reclaimed chemical tanks holding water. You have to dive through from the entrance into the other chamber, then attach a breathing mask. This seems scary? It should be. Fear is an integral part of experiencing the overview effect. Astronauts take huge risks for this experience. Once inside, you'll be able to look out of one of three bulleyes onto earth from space, floating in water, meditating, wondering about the beauty of our planet.
Additional Info
This installation has recieved funding from the City of Graz and has won an honorable mention at the Vienna Designweek's outstanding artist award '16. We are looking for funding to build it, promising clients are 360° HD+ Sattelite Operators and the space tech sector, exhibition spaces. For some more information about the project visit http://beholdingearth.org/
We were part of the ideation, made the CAD construction and visualizations and traveled to Israel to assist Tobias with presenting the project at the IAC'2015 Conference.
For a very good read about the overview effect click here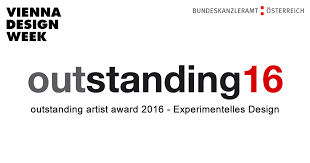 What we did
Research & Ideation
CAD / 3D
Rendering & Visualization
Prototyping
Branding / Graphic Design
Exhibition Design
Conference Talk Assistance